System W 14 – the world's most popular solution
Our System W 14 was first used in the 1980s, and has grown since then to become the world's most popular fastening system for ballasted track. It is the system of choice for leading rail operators in more than 60 countries, and more than a quarter of a billion fastening points in this system have been installed. One important reason is the wide range of configuration options. The various versions provide ideal support for use with conventional rail, high-speed lines and heavy-haul traffic systems, even on tricky substructures.
For conventional rail and high-speed systems.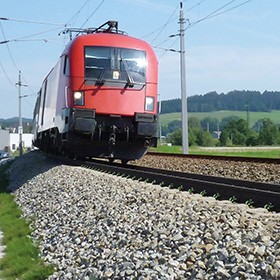 Because System W 14 is perfectly designed for the characteristics of ballasted track, this fastening system is not only suitable for conventional rail but also for high-speed tracks up to a speed of 320 km/h.
The component that gives the system its name, the Skl 14 tension clamp, was developed more than three decades ago in order to prevent rail breaks caused by trains accelerating and braking frequently. It also assists greatly in damping vibrations and reducing noise. A rail pad made of the cellentic elastomer allows the rails to deflect and increases the elasticity of the track.
This provides a boost to safety and travelling comfort. Especially, however, it helps to achieve a much longer service life and lower costs during the lifecycle of the track system. High quality combined with a low maintenance overhead is typical for System W 14, which continues to impress track planners to this day.
For heavy-haul transportation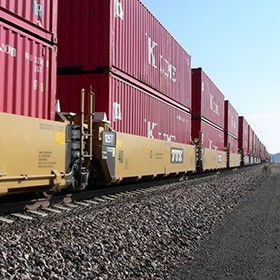 Heavy-haul trains impose massive pressure on the tracks, so cushioning with the appropriate fastenings is essential. In its special heavy-haul configuration, System W 14 is designed for an axle load of up to 35 tonnes. Protection for the track bed is provided by its perfectly coordinated components.
The key compensating element in System W 14 is the tension clamp, which is optimised for each individual requirement, and its enduring tensional force provides the necessary rail creep resistance. That means the rails can withstand significant vertical motion. Safe tilt protection is assured at the same time.
An additional component, a TPU rail pad, increases the elasticity of the fastening system. We designed this especially for the stringent requirements of heavy-haul transportation. It gives rails the elasticity they need for smooth cushioning and absorption of load forces.
An additional protective rail pad is used for especially loose substructures. This prevents sand from penetrating the gap between the sleeper and the TPU rail pad and causing damaging wear and tear. This arrangement has proven its worth in desert areas of the US in particular. The appropriate tests in accordance with AREMA Chapter 30 have fully confirmed the quality of System W 14.