Hauling and loading rails
Perfect logistics are the fast track to success. Vossloh employs intelligent solutions that take customer requirements and infrastructural limitations into account. We have the resources and flexibility to deliver new rails to construction sites just in time.
Relocating rails for direct reuse or loading and removing old material are also included in our portfolio. Complex and comprehensive rail-bound logistics comprising work locomotives, foreman shunters, logisticians, freight cars, road-rail vehicles and much more are in good hands with Vossloh.
Alongside the just-in-time deliveries of track system materials, we also organise the loading activities, work locomotive deployments and site shunters. We order the necessary train schedules and routes, assist with the internal logistical execution of construction projects and make sure that track space is leased for temporarily parked or additional transport units.
We also organize and monitor just-in-time haulage across international borders.
Transport and loading system 1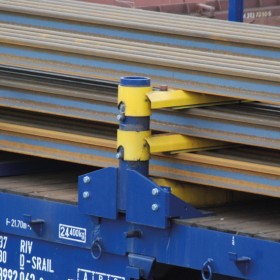 STS rail transport system
STS long rail transport units are equipped with loading racks and rail stabilizers.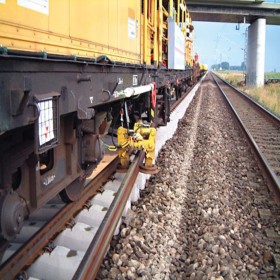 AAW loading and unloading vehicles
Combined with the STS rail transport system or the standard flat car, the AAW can be used to load and/or unload long rails of up to 180 m in length.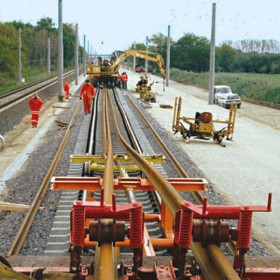 The SAS rail unloading system
This flexible and cost-effective system unloads long welded rails from STS units or standard flat cars onto the sleeper heads or the middle of the track.
Transport and loading system 2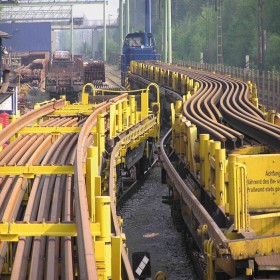 Robel transport units
These long rail transport units (LSEs) form part of the Robel system, which comprises LSE and SLW rail loading vehicles.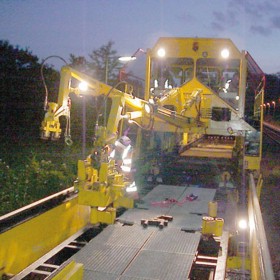 SLW rail loading vehicles
The SLW has a self-propelled crane that travels on rails running the entire length of the Robel transport unit. The SLW is the fastest and most economical solution for loading and unloading long rails of up to 360 m in length.