Remote/Digital Factory Acceptance Tests (FATs)
Vossloh's remote inspection solutions for points and crossings (Live videoconference or remote documentation sending). Available for Point Machines as well, either with turnouts, or taken independently.
Factory Acceptance Test (or turnout inspection) is a crucial step in our customer relationship. It is the day when our customer sees his turnout finished and assembled in our plant for the first time. Remote FATs are very convenient to reduce travel costs and to save time to everyone. It is appropriate in some cases but not all. For example, for a first of a series or for a new customer it is important that the FAT is done on site physically. But in other cases, it could be done remotely. Especially when travels are restricted, it is more than ever helpful to be able to approve the finished goods in order to release the goods for shipment. Our industrial sites rapidly adapted and proposed innovative remote solutions to customers.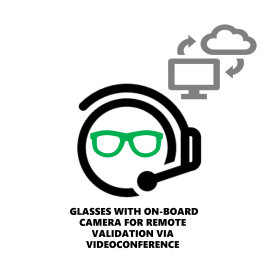 Factory Acceptance Tests can be realized with the help of connected glasses for remote validation. The site operator wears glasses with an on-board camera that transmits live, using an integrated microphone and headset that allow real-time communication with the customer remotely. An interactive tablet is used to share the information sent by the glasses to the customer. The connection between the operator and the customer is made through a videoconference.
Inspections with Remote Documentation Sending
Factory Acceptance Tests can be realized on site without the customer and all the standard inspection documents are being sent on the FAT date for a remote approval through an homologated quality process. The documentation includes checklists proving that the turnout has been built according to customer specifications, drawings of the turnout, material list as well as delivery specifications. Video footage of the turnout is supplied demonstrating switch operation and any specific requests from the customer. Additional photographs of the turnout are supplied covering all key areas along with any specific requests from the customer. Any additional customer documentation can be completed. A video call can also be offered to allow a video walkaround of the turnout to be conducted in real time along any questions discussed.
The Turnout of the Future
In addition to inspection/validation of turnouts, this connected-glasses-technology opens other possibilities of applications such as monitoring, remote maintenance and technical support or distance learning and training. Lastly, these new digital technologies also opens the era of the turnout of the future. From design to recycling after years of use, each turnout (and associated equipment) will have its own digital data file during all its lifetime enabling optimized monitoring and costs savings. Indeed, we are currently developing the possibility to measure the freshly assembled turnout with a digital trolley allowing accurate data collection. Together with the drawings created in 3D and BIM-models, the data can be transferred to the customer in a digital way, enabling further use throughout the turnout's lifetime and offering a customized asset management!