20.09.2016
High Speed Grinding: new projects and options
Unparalleled working speeds and rail maintenance within the regular timetable make High Speed Grinding (HSG) technology an extremely attractive option for railway companies and network operators. At InnoTrans 2016, Vossloh will be presenting as many as three new major projects.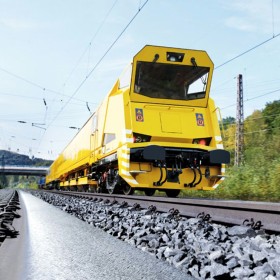 Self-propelled HSG machine for the Chinese railway network
On September 20, 2016, at InnoTrans 2016, Vossloh AG and CRCC High-Tech Equipment Corporation Limited (CRCCE) will sign a contract for the construction of a self-propelled High Speed Grinding train. Responding to requests from Chinese rail network operators, Vossloh will deliver the key components for the self-propelled grinding machine, such as the grinding, hydraulic and control equipment. For the new grinding trains, several potential buyers, among them various Railway Bureaus of China Railway Corporation, have already expressed their interest.
The existing service joint venture with CRM China Railway Material will continue to market its successful services offering, which will be extended to cover additional high-speed links.
New grinding machine HSG-metro for the Chinese light rail market
The Chinese light rail market is likewise highly interested in preventive rail maintenance. For more than a year now, the HSG-city has been in regular use in several cities where it is effectively remedying rail defects and helping to reduce noise.
In order to be able to offer an even higher grinding performance than can be achieved with the HSG-city to metro and tram operators with extensive networks, e.g. in Beijing and Shanghai, Vossloh concluded another contract with CRCCE on the construction of a novel HSG-metro grinder. It will comprise two traction vehicles and three grinding vehicles that permit bi-directional operation and above all satisfy the demand of Chinese customers for self-propelled machines, thus dispensing with additional locomotives.
CRCCE will build the traction vehicles and also take over the sale in China. Vossloh will contribute the development and the construction of the grinding vehicles.
Several operators in China have already shown serious interest. The production of further grinders is being planned to be able to respond to the enormous market potential.
Services with the HSG-city will continue to be offered in China. These assist in preventive rail maintenance campaigns by complementing the work that operators are doing with their own machines.
Vossloh's HSG-2 grinding train starts regular rail maintenance work in the Gotthard Base Tunnel
Preventive rail maintenance is set to start in the newly completed Gotthard Base Tunnel. An important element will be the deployment of the High Speed Grinding (HSG) machine.
Since July 2016, Vossloh AG—together with Swiss Federal Railways SBB—has been planning the first operation of the HSG train in the Gotthard Base Tunnel. With the signature of a framework agreement, SBB had opted for the HSG technology as an essential part of their preventive rail maintenance strategy. Prime reason for this decision was the fact that the grinding train does not need any possession time. Thanks to its working speed of 80 km/h it is in sync with the freight trains running in the tunnel.
The first grinding operation is scheduled for October 3, 2016. During two consecutive nights, both line tracks will be ground three times in total in order to remove the hardened surface layer by "erasing" about 0.1 mm of steel from the rails. Subsequently, three grinding campaigns each year are planned to maintain the rails in the world's longest railway tunnel in good shape.
Under current plans, additional SBB tracks in Switzerland will be maintained with the HSG machine in 2017.
Developments like these highlight the success of HSG technology. Since its introduction in Germany in 2007, more than 200,000 kilometers of track have been ground on central and northern European lines and in China.
For further information about HSG technology, please visit the Vossloh Stand 310 in Hall 26 or www.vossloh.com .
Contact details:
Media team Vossloh AG
Phone +49 2392 52 608
Email: presse@ag.vossloh.com
About Vossloh
Worldwide, the Vossloh brand stands for rail industry capability, forward-looking solutions and products featuring leading-edge technologies. Our core business is rail infrastructure. The activities of the Group have been divided into the three core divisions Core Components, Customized Modules, Lifecycle Solutions and the forth division Transportation, which is not part of the core business. The Vossloh group operates worldwide with approximately 4,900 employees and generated sales of €1.2 billion in fiscal 2015.