09/09/2022
Smart Maintenance 'on the fly': The future belongs to digital-based rail processing for the rail timetable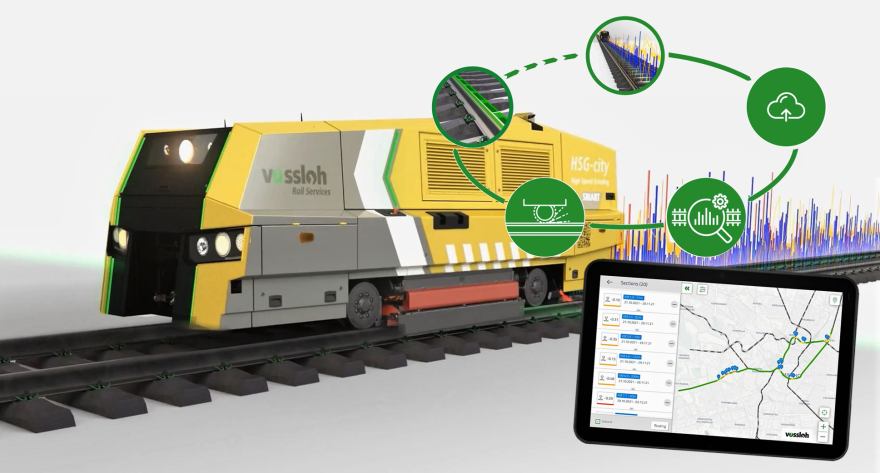 With the strong growth in rail traffic, the load on existing lines will also increase. This increases the importance of maintaining the existing network as well as possible, preventively, so as not to jeopardize the availability of the heavily used routes. In order to achieve the overriding goal of maximizing track availability and to significantly increase efficiency in terms of cost effectiveness and planning reliability, Vossloh's Smart Maintenance 'on the fly' simplifies and accelerates all rail maintenance processes.
At InnoTrans 2022, Vossloh will be presenting the groundbreaking Smart Maintenance 'on the fly' package as a world premiere in Berlin. As Vossloh's successful high-speed grinding machines now also monitor the rail condition with state-of-the-art sensors and provide the measured data for direct analysis in mapl-e (maintenance planning easy), measuring and grinding train merge into a single unit. The innovative HSG smart machines can carry out the status assessment as well as the rail treatment at up to 80 km/h and thus "swim along" with the ongoing traffic.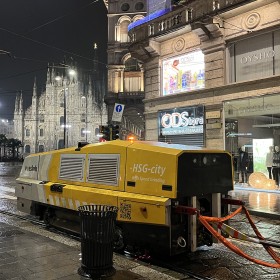 Knowing the condition of the rail network is the essential key to intelligent and efficient rail maintenance. For unprecedented transparency in maintenance planning and control, mapl-e intuitively visualizes the rail condition in traffic light colors and divides the measured stretch into processing sections – depending on the defect type and level. Accessible via any terminal device, plant managers can quickly and easily change important influencing variables or their own threshold values at any time and playfully test their effects on shift performance and costs. At the push of a button, mapl-e evaluates different maintenance scenarios and calculates processing times. As a result, plant managers get a complete overview in various levels of detail, can prioritize sections to be worked on and plan appropriate measures in a targeted manner.
In the spirit of 'enabling green mobility', regular measurement activities are also increasing know-ledge of wear trends in order to gradually make asset management more predictive and optimize maintenance budgets.
Don't miss the world premiere of Smart maintenance 'on the fly' at Vossloh booth 975 in hall 26. In the meantime, further information on HSG smart & mapl-e and other trade fair highlights can be found at the Vossloh Topic Lounge and at InnoTrans 2022 | Vossloh AG .
Contact
Vossloh Media Team
Phone: (+49-2392) 52-608
Email: tradepress@vossloh.com
Vossloh is a globally active technology Group dedicated for over 135 years to quality, safety, reliability, innovation and a focus on the customer. Vossloh's comprehensive range of track-related products and services make the company a leader in the global market in this area. Vossloh provides a uniquely wide range of services: rail fastening systems, concrete ties, switch systems and crossings as well as innovative and increasingly digital-based services for the entire lifecycle of rails and switches. Vossloh uses its extensive understanding of rail infrastructure to meet the key customer need of track network availability.
Vossloh products are in use in more than 85 countries. With close to 80 Group companies in around 30 countries and over 35 production sites, Vossloh is a global company with a local presence. Vossloh is committed to sustainable governance and climate protection and makes an important contribution to sustainable passenger and freight mobility with its products and services.
The Group activities are organized into the three divisions of Core Components, Customized Modules and Lifecycle Solutions. In the 2021 fiscal year, Vossloh achieved sales of €942.8 million with approximately 3,600 employees.