Perfect profile machining - because time is money!
We remove the mill-scale or "de-carbonized layer" from our factory-milled new rails. This not only helps to delay the formation of corrugations; time-consuming rail grinding at the construction site may also no longer be required. New rail grinding improves on the transverse and longitudinal profile created by the milling process, significantly delaying the rail wear that inevitably results from operational use.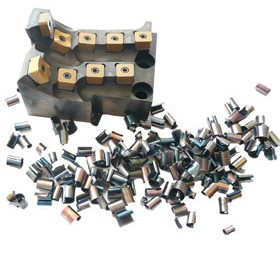 The rail can be used immediately after it has been laid – without restrictions – so track closures are not required. Vossloh uses the latest measurement, straightening and milling technology to manufacture long welded rails with a geometrically uniform longitudinal profile. Thanks to this reprofiling technique, rail joints with the typically "bent" rail ends are a thing of the past. "Invisible welding" is now the technique that produces the highest quality long rails on high-speed routes.