A global fixture: System DFF 200
Our proven System DFF 200 is used on slab tracks worldwide. It is recommended for use when optimum cushioning and ideal load distribution are required in combination with maximum reliability and availability. The system is ideally suited for direct fastening of single support points in conventional rail and urban transport lines. Its qualities are especially beneficial in tram lines with covered tracks. The system has been continuously refined over a period of decades and is kept at the forefront of technical development.
For conventional rail und urban transportation with an emphasis on metro services.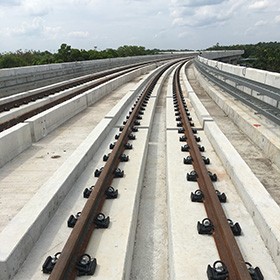 The ease of handling the system makes installation easier, and also replacement during maintenance work. With this solution, washers at the single support points assume the function of concrete sleepers and their shoulders. They are firmly anchored in place with a screw-dowel combination. That means there is no longer any need to remove any elements when welding the rails, which saves time and money.
The reinforced base plate of System DFF 200 is designed for axle loads of up to 26 tonnes and ensures a high level of stability. It is therefore recommended for metro and conventional rail projects in particular. Height adjustment plates enable the system to be ideally adapted to any track. Rails are kept securely in the track and dynamic forces are deflected into the substructure. They are also easy to use with covered tracks and turnouts.
A high proportion of plastic ensures electrical insulation and prevents corrosion at the same time. Being lighter than steel, it also offers logistical benefits and easier handling. Intermediate plates made of the cellentic elastomer minimise vibration and structure-borne noise, ensuring a long service life for all track components.
For urban transportation with an emphasis on tram services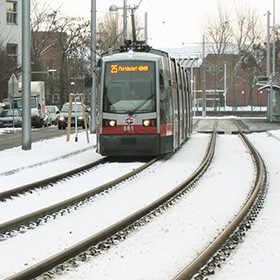 In an urban transportation setting, the loads on fastenings are caused mainly by frequent braking and starting sequences. Opting for highly elastic components with a powerful damping action ensures a high level of travelling comfort, less noise pollution and assured operational safety.
For tramways in particular, the level of elasticity needed to absorb all the dynamic forces in the track system must be guaranteed. System DFF 200 offers critical advantages in this regard: cellentic rail pads allow the rails to deflect under load. As a result, vertical forces are ideally distributed, and the track is protected against overloading. Additional fastening elements enable the system to be used with grooved rails on covered track.
The elastic cellentic rail pads also reliably cushion the unevenness of the track and the wheels. The transmission of vibrations to adjacent structures in the form of structure-borne noise can also be effectively minimised. The low noise level and good travelling comfort, combined with maximum safety and a long lifecycle, make the system attractive from both a technical and an economic perspective.