VPM - Swing nose clamp lock
The VPM is a safety product. Associed with its both dedicated clamp lock detectors, it locks the movable point frog, while monitoring its position and lock status.
It is the solution for conventional lines, high and very high speed lines, heavy-haul networks and for urban transport.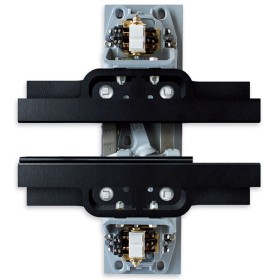 Used and nose fixed at the swing-end of the common crossing swing nose, VPM clamp lock is an integral part of the swing nose. This special configuration provides the positive locking function, offers greater control of swing nose drive and enables mechanical tamping operations between bearers.
The position and locking of the swing noses are detected by the both clamp lock detectors, which provide information about the position of the swing nose and swing nose locking.