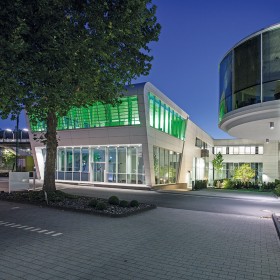 Vossloh is one of the leading technological providers in rail infrastructure. To continue to meet specific customer expectations in individual market regions and to further strengthen its market position, the company continuously invests in the refinement and optimization of its products and services. The aim is to develop innovative rail technology solutions and implement these to the customer's benefit.
In regularly scheduled innovation forums, experts from the divisions are given the space, away from their day-to-day duties, to come up with creative and innovative development approaches, analyze them comprehensively and develop them further in a targeted manner. This creates a crucial advantage, as the close cooperation between business units in the Group enables products and services to be developed with a clear focus on an optimal overall solution. Research and development experts from across the group dealt with the consequences of increasing track loads and the resulting wear of superstructure components, as well as with the effects of high-frequency vibrations. The aim of the Group's development activities is therefore essentially focused on three overarching core issues: Extension of the life cycle, improvement of track availability and noise reduction.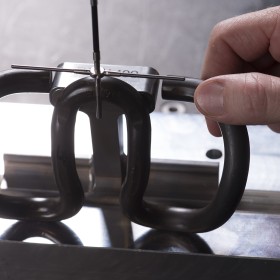 The reduction of noise and improved rail acoustics plays an ever larger role in terms of public acceptance of local and long-distance rail traffic. The Core Components division's R&D team dedicated themselves mainly to this requirement in 2016. The focus of the development activities was the development of new products as well as the optimization of existing products by using new types of materials for fastening components and the system as a whole. Thanks to our own test facilities – at the Suzhou plant, China, a system test stand for rail fastening systems was put into operation in 2016 – and close cooperation with external partners, additional insight was gained into standardizing components, extending product life and optimizing CO2 emissions from products. The tests started in 2014 on rail fasteners under extreme loads of the heavy-haul lines were also continued and intensified in 2016, as were new approaches to surface coating metal parts.
Continuous development of switch systems
The staff and technical R&D capacities of the Customized Modules division have been bundled under one roof in the new technology center in Reichshoffen since 2015. The research and development activity is the continuous development of switch systems to optimize rail contact, reduce wear and tear and therefore minimize maintenance costs and maximize service life. In 2016, Vossloh worked intensively on newly-developed switch systems and system components; in spring 2016, a new, efficient switch solution for slab tracks was approved. Technicians also developed a new switch tongue adapted for heavy-haul transport in Australia, a new expansion device with large capability for Northern Europe, a new coating showing low friction for all railways application, a new material showing promising capabilities for Tramway, Metro or Railways applications. Testing have been initiated. Most of the work on switch monitoring and locking systems was carried out in connection with specific customer requirements, for example the development of a new type of hydraulic drive system for the French national railway initiated in 2016.
Focus on the further development of products for track and switch maintenance
In the Lifecycle Solutions division, the focus is on the further development of machines and systems for track and switch maintenance. While preliminary studies clarify feasibility and determine costs, the projects provide the constructive preparation and production of machines and systems. In financial year 2016, the prototype of the HSG metro grinder for China and the new development of the drive technology for milling machines (high performance milling) were at the center of development activities in particular. In the Lifecycle Solutions division, research and development activities were focused on the new development of a terminal block for rail transport systems, as well as various further developments related to HSG-city and HSG trains.