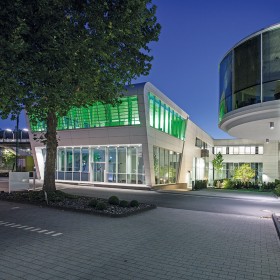 Vossloh is a technological leader in the rail infrastructure segments in which it operates. Innovation plays a decisive role in ensuring that the Company remains competitive from a technological standpoint. In the interest of safety, Vossloh's products and services are subject to detailed technical specifications and standards that must be met. Before products and services for rail infrastructure are ready for market, they usually undergo (further) development and testing for several years, as well as complex approval procedures by independent testing institutions. Research and development projects at Vossloh are therefore usually scheduled to run for several years.
To satisfy the specific expectations of customers in individual market regions over the long term and reinforce its own competitive position, Vossloh adopts a structured approach to managing innovation by continuously investing in the development and optimization of its products and services. Principles and procedures are defined in the Group-wide Innovation Playbook adopted in 2021, the implementation of which is ensured by a Group Innovation Committee. Vossloh intends to increase collaboration across business units to develop new products, services and business models and ensure that customers and suppliers – with their specific expertise – are involved more closely in research and development processes. After reviewing its production processes over recent years, the company is now implementing a range of measures which will provide ongoing efficiency gains, including modernization, increased automation and specialization.
One focus of innovation at Vossloh is digitalization as the link between hardware and services. The company uses specialized sensor systems to collect data about load levels and track condition. This data provides an indication of how worn these components are and other insights, making it easier to identify which maintenance strategies will be most effective, and when they should be used. This can reduce the risk of component failure – and thus the unavailability of routes and infrastructure – during ongoing operations. Artificial intelligence also plays an important role in detecting wear patterns to predict the failure of track components and prevent these failures by planning maintenance measures ahead of time. Vossloh uses its in-depth knowledge of rail structure to meet its customers' main requirement "track availability" and develop comprehensive solutions in partnership with all business units.
Maximizing track availability and reducing lifecycle costs
Vossloh's research and development efforts in 2022 focused on creating new products and services that provide solutions to the major challenges currently facing the rail sector. This includes increasing the availability of rail tracks and developing solutions to deal with the consequences resulting from the increased load on tracks, such as wear and noise emissions. Vossloh also conducts research with a focus on extending the service life of infrastructure and infrastructure components in order to reduce lifecycle costs. Vossloh possesses comprehensive expertise on rail as a complex mode of transportation. The company is able to leverage this expertise to significantly improve the efficiency of rail network maintenance processes. Digitalization plays a key role in this. The focus is on intelligent rail systems and digital track monitoring. Vossloh's solutions minimize disruption and lay the groundwork for increasing the amount of traffic on rail networks.Vossloh is therefore helping create more efficient rail infrastructure, which is essential for the environmentally friendly mobility of people and goods, i.e., enabling green mobility.
Predictive maintenance based on track condition data
The digitalization of rail infrastructure opens up new opportunities for Vossloh to create value with its products and services. Apps released by Vossloh bring measurement and track condition data together, provide a quick overview of which routes require action, and suggest suitable measures for repairing damage. Vossloh uses configurable IoT sensors to measure vibrations and provide data from parts of the track in the vicinity of switches. This data is validated and compressed, and then sent to a cloud-based platform developed by Vossloh using a mobile phone network for analysis. The platform processes the data collected by the sensors to identify any atypical track behavior and propose maintenance measures.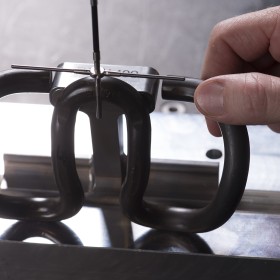 The Core Components division focused on the development of the new tension clamp in the Fastening Systems business unit in 2022. The innovative geometry of the clamps and the convex spring arms make it possible to use more elastic systems to reduce vibrations even further. The M generation provides optimized performance, enhanced durability, reduced complexity and a significantly improved carbon footprint thanks to the use of a new micro-steel alloy and a more compact design. A number of models entered testing in Europe and North America in 2022. Vossloh's enhancement of its cellentic intermediate layers focused on completely avoiding the use of harmful nitrosamines during the manufacturing process. Cellentic components optimize the elasticity of the track, reduce vibrations, reduce structure-borne noise and protect the superstructure, particularly when installed in combination with the EPS (engineered polymer sleeper) composite sleeper developed by Vossloh. After many years of testing, a mass production process is currently being established for the EPS. The R&D activities of the Tie Technologies business unit in the reporting year focused on making changes to the composition of concrete used for railway sleepers to reduce the use of materials and energy. One key focus involved the use of an innovative cement mixture, which has a significantly improved carbon footprint due to changes in the composition while retaining the same properties.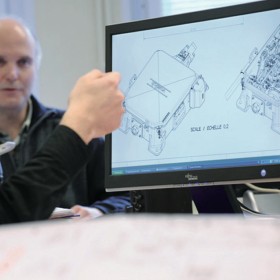 The Customized Modules division completed the development of an ultrasonic testing process for cast manganese steel frogs in 2022. This opens up new possibilities for both the foundry and when it comes to inspecting these important switch elements in the track. The Flexidrive-4M point machine is a product created for metro systems and mainline railways. The design process focused on ensuring a very long service life of one million switching operations through the use of low-friction materials and a housing that protects the internal parts from even the harshest climatic conditions, along with other features. These machines are currently being tested in Finland for the first time. A product line was created for the extremely hard rolled steel CogX for frogs and switch points, which had previously been tested for several years in a wide variety of installations. This product line is now available worldwide. The material provides a higher level of resistance to wear and impact compared to traditional solutions, and extends service lives by up to 30 percent. The COGISLIDE coating developed by the division was also incorporated into a product line after several years of successful testing. When slide chairs in switches are coated with this material, points can be moved smoothly and easily without lubrication.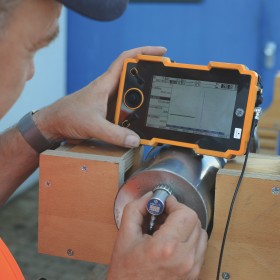 The Lifecycle Solutions division focused its R&D activities on milling machines, onboard rail condition measuring systems and software for evaluating and visualizing even more condition data – all with the aim of enhancing smart maintenance. In 2022, the control systems, sensors and measuring technology of various grinding and milling trains were adapted to reflect changing requirements. The division is systematically investigating alternatives to diesel and petrol-powered locomotives due to increasing customer demand. It tested battery-powered electric motors and using power supplied by an external source via (several coupled) traction vehicles. The SoniQ Rail Explorer – a manually guided ultrasonic inspection system for the detection and location of operational irregularities inside rails – is now market-ready. The new development was impressively light, easy to handle and extremely robust during track testing.