Precision-inspections of rails and turnouts in a single pass and completely in sync with the timetable as well as a recommendation for removing defects – that's what the RIC-City Inspection Car, which was conceived for network operators, rail infrastructure businesses and railway industry service providers, can do.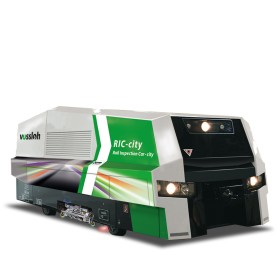 The machine's technology includes a 16-probe eddy current testing system that not only detects open cracks in the rail head across the entire cross-sectional profile but their depth and location as well. An ultrasonic testing system also detects flaws in the rail's interior. Any incipient cracks in drill holes, welding flaws and material separation in the rail's interior are also detected reliably and documented. Measurement of the rail's longitudinal and cross-sectional profiles is also optionally available, and any fastenings that may be missing or cracks in concrete sleepers can be detected using the video inspection systems.
All the data that the RIC-City collects and subsequently analyzes can be imported to the software as a results report and displayed in different combinations. Precise documentation and regular monitoring mean that rail defects are discovered and rectified early, which ensures high safety standards for the rail network's operation and savings in the maintenance budget.
You're interested in using or purchasing an RIC-City? We would be happy to advise you and send you an individual quote. Contact us .