03/04/2021
One of Germany's largest chemical complexes relies on MR.pro®
In the second quarter of 2020, InfraLeuna awarded the Rhomberg Sersa Vossloh cooperative the contract to digitalize the rail infrastructure at its chemical complex in order to optimize its long-term, track system management. With the successful completion of the data capturing process and implementation of the MR.pro® asset management software, not only were the operator's predefined project targets achieved; it was also immediately able to begin with its structured implementation.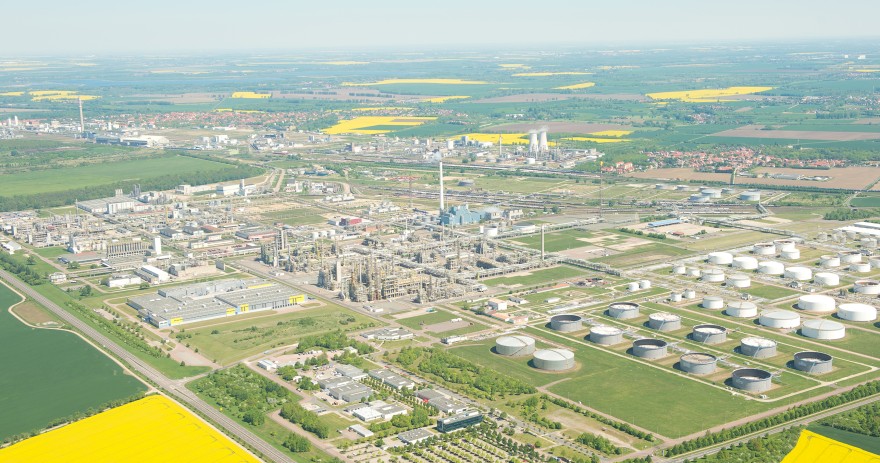 Covering an area of 1,300 hectares, Leuna is the Federal Republic of Germany's most expansive chemical complex. The companies based there employ around 10,000 people who manufacture goods to the tune of twelve million tons every year.
In order to optimize the management of its track systems, InfraLeuna was looking for a modern infrastructure management system and a digitalization service – if possible from one service provider. The operator decided on MR.pro®: the leading asset management application for light rail and industrial customers in the German-speaking countries, and currently being used with great success by numerous customers in the region.
Immediately after being awarded the contract, Rhomberg Sersa Vossloh and the customer began the work of digitalizing all of the existing installations that make up InfraLeuna's rail infrastructure. While rail operations continued as normal, MR.pro® was used to create a digital representation of each actual technical infrastructure object. This representation, or digital twin, was created in just four steps.
InfraLeuna's rail infrastructure comprises 93 kilometers of rails and a total of 340 switches and crossings, all of which service around 50 customer loading stations and accommodate around 280,000 tank cars a year. The InfraLeuna rail network is connected to the DB AG track network at the train stations of Großkorbetha and Leuna North.
Software solution by experts for experts
"We developed our MR.pro® inspection and maintenance software as a hybrid of an expert system and a technical information system", points out Andreas Marx, Managing Director at Rhomberg Sersa Vossloh GmbH. Especially tailored to the particularities of rail networks, this practical asset management tool brings together all the railway infrastructure components - the track network, traction power supply, overhead lines, signaling equipment, communications equipment, stations, buildings and supporting structures. When used in combination with ERP systems, a unique workflow in the maintenance cycle is created.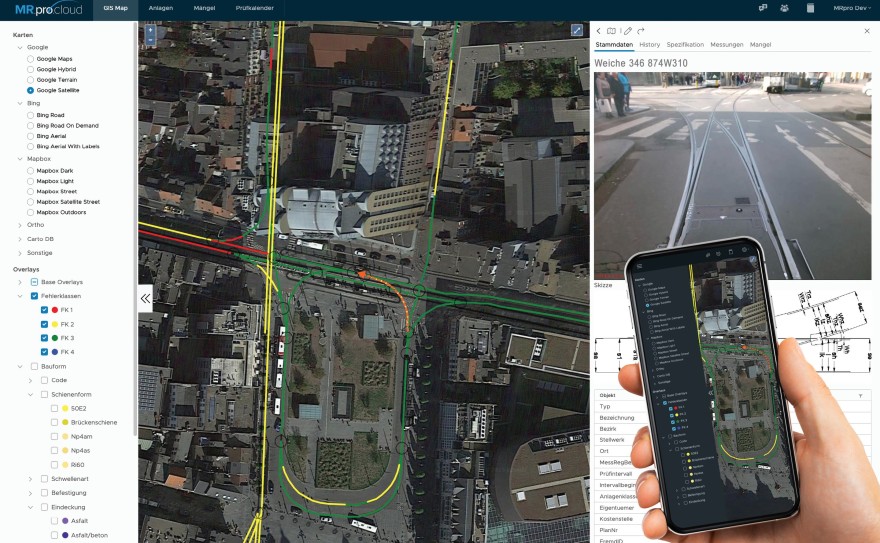 In terms of its function, MR.pro® supports both the short-term and long-term management of track networks: everything from comprehensively recording the asset and inventory data to documentation and evaluation as well as active planning and management of the inspection, maintenance and repair processes. The software also clearly and comprehensibly administers time-critical jobs such as audits, inspections, and warranty periods.
Complete database for digital asset management
"We were looking for a practically-oriented solution for digitalizing our infrastructure in order to reduce our planning, management and documentation costs on the one hand and on the other to have an infrastructure management system that extends the service life of our tracks, switches and crossing over the long term." points out Sebastian Wehner, specialist railway construction engineer at InfraLeuna. "Capturing the structure of our assets and the condition of our infrastructure gives us a complete database that allows us to document the condition of our respective rail network components, which we can then carry forward as a life-cycle record. What's more, MR.pro® allows us to closely monitor developments in the condition of the infrastructure. We can analyze loads, structural shapes and other characteristics over longer periods of time, and consequently make informative, medium-term forecasts of rail infrastructure conditions. This in turn allows us to continuously improve operational safety and reliability."
Andreas Marx is pleased. "We've been able to implement this project for a customer in such a short time. Having successfully set up the database, we're now helping InfraLeuna to use the extensive analysis options. We're advising them on aspects of service life management such as defect classification, wear equivalence and cost reduction potential."
Marcel Taubert, Managing Director of Vossloh Rail Services, adds "This project clearly shows that the customized Smart Maintenance we offer improves transparency and decision-making quality for infrastructure managers. It forms the key foundation for condition-based, cost-efficient rail maintenance."
Hamburg/Föhren, March 4, 2021
Contact information:
Vossloh Rail Services GmbH
Anika Oda Amort
Head of Marketing & Communication
Hannoversche Straße 10
21079 Hamburg
Phone: +49 (0)40 430 93 13 90
Email: anika.amort@vossloh.com
Vossloh Rail Services
As a business segment of the Vossloh Group, Vossloh Rail Services provides a host of services centered on rails. Its range of services covers a rail's entire lifecycle – everything from long-rail production and transport, rail maintenance and preventive care right up to the reconditioning and recycling of old rails. By combining its own technologies with efficient procedures and experienced personnel, the company is ensuring that modern railway operations are both safe and sustainable.